Elmina

Characteristics

Employee Number

142

Class

Soldier

Rank

Phalanx

Strategy

Stop their Spells!

Gender

Female

Hair Color

Brown

Eye Color

Brown

Statistics

HP

235

Physical Atk

24

Magical Atk

8

Physical Def

51

Magical Def

8

STR

21

VIT

47

AGI

10

DEX

12

INT

8

PIE

8

LUK

6

Portrayal

Japanese Voice

Hyo-sei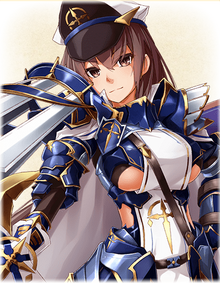 Self Introduction
Edit
"Are you sure you're competent enough to hire me? I cut down superior officers who can't handle my power."
Biography
Edit
A truly powerful woman occupying the rank of "Shogun," which carries the highest level of authority among the Holy Knights.
A meritocratic leader, she's affectionate toward those with real ability, but cold as ice toward those without it.
There's not a single hole in her fighting technique. The spear is actually a perfect metaphor for her existence itself. She very rarely takes center stage.
She is fond of wine and is quite knowledgeable about wine makers, but is by no means discriminating in her tastes. In her free time, she enjoys a good game of chess.
Valentine's Chocolate Festival Event Edit
Gratitude Chocolate
Edit
I have some chocolate to share! It tastes pretty good!
Ad blocker interference detected!
Wikia is a free-to-use site that makes money from advertising. We have a modified experience for viewers using ad blockers

Wikia is not accessible if you've made further modifications. Remove the custom ad blocker rule(s) and the page will load as expected.